Quobyte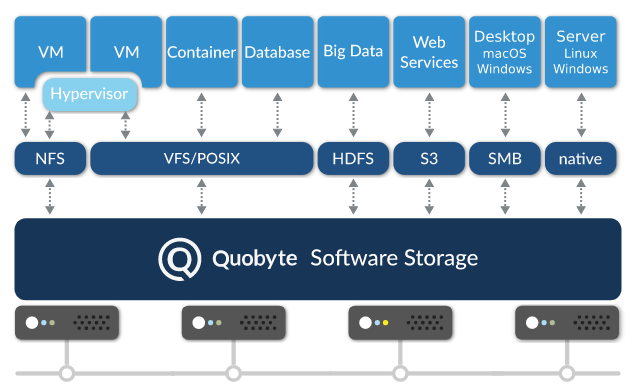 Système software de stockage unifié (fichiers, blocs, objets)
Le système de fichiers de dernière génération de Quobyte unifie le stockage des fichiers, des blocs et des objets pour les applications scientifiques et d'entreprise. Soutenu par une décennie de recherche, son système de fichiers parallèle sert à des charges de travail à faible latence et à haut débit dans un système unique.
Distributed File System : Parallel POSIX file system volumes, that can be mounted to any number of hosts and include:
File locking, incl. range locking and unlock-to-lock consistency
Shared ACLs across Linux, NFS, Windows, OS X, and S3 – incl. NFSv4 ACLs
Extended attributes (xattrs)
Automatic locking for applications that are not cluster aware
Hardlinks
Metadata snapshots
Striping: GB/s for individual files
Block size configurable down to file level (512 B to 2 MB)
Unif​ied Access Unified multi-interface access with common data, metadata, access control, ACLs, and locks:
Native user-land client for Windows, Linux, and macOS (automatic fault-tolerance and parallel performance).
Simultaneous access to the same file from all interfaces
NFS v3/v4
SMB via Windows Server or Samba
High-performance, stateless S3 incl. web browser-based client
HDFS (Hadoop Filesystem)
File, Block, and Object Workloads within a Single System
High-performance storage for block workloads (VMs and databases):
High-concurrency random block IO with sub-millisecond latency.
High random IOPS and throughput on the same file system.
Native Qemu integration
Service provider-grade object storage with S3 interface:
Extensive S3 feature coverage
Authentication via LDAP, Keystone, and password files
Stateless, scalable architecture
Master small-file workloads with ultra-low latency
100% Software for Diverse Deployment Models
Runs on any x86 server, dedicated or converged. All major Linux distributions supported, no kernel components required.
Connect storage to a public cloud (AWS, Google Cloud Platform, Microsoft Azure).
No RAID necessary. All redundancy is done in software, across servers. No NVRAM necessary.
SAS/SATA HDDs and SSDs, NVMe, SMR drives
Fast network (10GbE+ recommended)
Storage cluster or hyperconverged, can be spread across rooms or geographically separated datacenters, all in one rack or a federation of clusters.
Linear Scalability and Performance
Direct communication from client to storage servers enables linear scalability.
Throughput and IOPS scale linearly with hardware resources.
Single file IO can scale to entire cluster bandwidth.
Sub-millisecond latency
Any number of clients or servers (starting with 4).
Any number of volumes.
Any number of tenants.
GB/s on single files.
Data Safety, Redundancy, Availability, and Integrity in Software
No single point of failure and split-brain safe:

Non-disruptive updates with zero downtime. Mixed version deployments possible.
Automatic failover in software, no extra HA setup or cost
Hardware failures do not threaten data consistency

Redundancy in software eliminates RAID:

Replication: quorum-based replication for strong data consistency; the entire replication stack is split-brain safe.
Erasure coding: space-efficient alternative to replication for sequential writes and high-throughput workloads.

Asynchronous replication through volume mirroring for better disaster recovery
End-to-end checksums protect data and metadata in transit and at rest
Security
IP-based and X.509-based access control
Integrated certificate management
Management authentication via LDAP, OpenStack Keystone or integrated user management
S3 authentication via LDAP, OpenStack Keystone or password files
Multi-tenancy on the logical and physical level
At-rest data encryption
NFSv4 ACLs